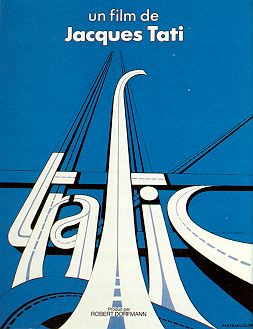 ---
Selection of the 10 best movies of the year, Cinema critics association, New-York, 1971.
Premio Nazionale, Italie, 1972.
Outstanding film of the year, Festival de Londres, 1972.
Kunniakirja award, Finlande, 1973.
---
Length : 92 minutes in color.
Director : Jacques Tati
Production : Films Corona, Films Gibé, Selenia Cinematographica.
Scenario : Jacques Tati with the collaboration of Jacques Lagrange and Bert Haanstra.
Pictures : Edward Van den Enden and Marcel Weiss.
Music : Charles Dumont
Cast :

Jacques Tati : Mr. Hulot
Maria Kimberley : the public-relations of Altra
Marcel Fraval : the truck driver
Francois Maisongrosse : Altra's salesman
---

The cars and motorists, minor themes of Mon Oncle and Playtime, are the purpose of the Tati's 5th film. This film deals with the universe of white lines, roadsigns and the migratory obsession of his contemporaries again. Tati notices the shift in attitude of the homo-mobilis when he has a motor in his hands.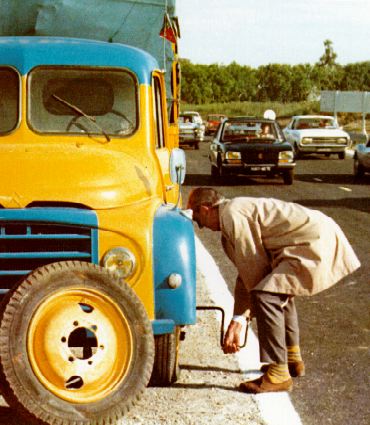 Because of the criticism of Playtime, Hulot regains his status of main character . Graphist in a little Paris' firm named Altra, Hulot is the inventor of a new model of camper-van whose prototype must be shown at the international car exposition of Amsterdam. Tha action takes place on the road between the 2 capitals, where some misfortunes delay Hulot (he runs out of gas, has a multiple car crash and troubles with custom officiers). He arrives at Amsterdam at the moment of the closure of the exposition.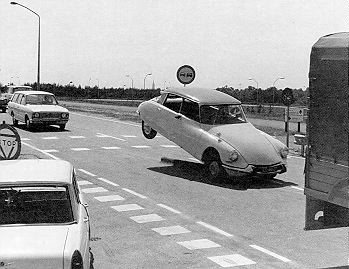 After the financial problems of Playtime, Tati is neither able to produce a new full-length movie nor capable of being scenarist, actor and director. This is why he just plays the character of Hulot. Nevertheless, after only a few weeks of shooting, this distribution seems impossible. Haanstra gives him back his place behind the camera.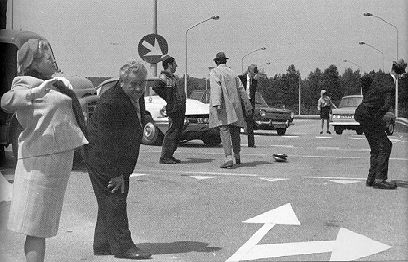 This last real full-length movie is a museum item that never ages. Here Hulot discovers speech, Wonderful!