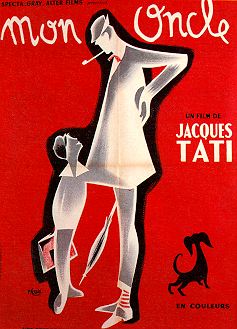 ---
Prix spécial du jury au Festival de Cannes, 1958.
Grand prix technique de la commission supérieure technique du cinéma francais pour la recherche d'une écriture sonore concourant à l'action, Cannes, 1958.
Selection of the 10 best movies of the year, Cinema critics association, New-York, 1958.
Prix Méliès de l'association francaise de la critique de cinéma, Paris, 1958.
and other distinctions in Italia, Spain, Finland, Mexico and Bresil...
---
Length: 110 minutes in color.
Shooting at Saint-Maur-des-Fossés.
Director : Jacques Tati
Production: Spectra Films, Gray Films, Alter Films, Film del Centauro.
Scenario : Jacques Tati assisted by Jean Lhôte.
Pictures : Jean Bourgoin
Music : Frank Barcellini et Alain Romans.
Cast :

Jacques Tati : Mr Hulot
Jean-Pierre Zola : Mr Arpel

Adrienne Servantie : Mrs Arpel
Alain Bécourt : Gérard

Dominique Marie : the neighbor
And the inhabitants of St-Maur-des-Fossés.
---

In his third movie, Tati shows us who Hulot is: where he lives and works, who his relatives are, and his relationships with the world.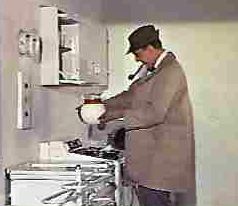 Mr Arpel (a manufacturer in plastic pipes), his wife (Hulot's sister, who is fanatically house-proud), and his son Gérard (very bored by his family) live in a very modern house. Hulot, who lives on the last floor of an eccentric old building, is the only entertainment of his nephew. Mr Arpel tries to obtain a job for his brother-in-law, and Mrs Arpel to introduce her brother to their unmarried neighbor during an appalling garden-party.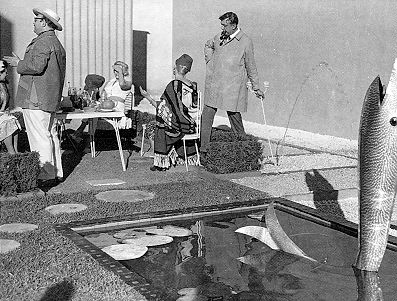 Since Jour de Fête, the principal characteristic of the sounds used is their realism. The sound is not totally linked to the picture and plays with it. It guides the viewer's eyes and gives a third dimension to the picture.
Tati's first film in color, Mon Oncle is a documentary on the shades and the colors, which were typical of the style of the 50's.